Description
Electric Scooter 1000-6000W Single or Dual Motor Adults Foldable 100 KM Long Range 
HOW TO START THE ELECTRIC SCOOTER?
Step 1: Unfold the e scooter, and then install the seat according to your preferences.
Step 2: Press the button with the unlock symbol on the remote controller twice, and then the display of the scooter will light up.
Step 3: Twist the throttle, and the electric scooter will start.Note: This electric scooter is very fast, with a maximum speed of 50 MPH. It is better to ride with a helmet and protective gear.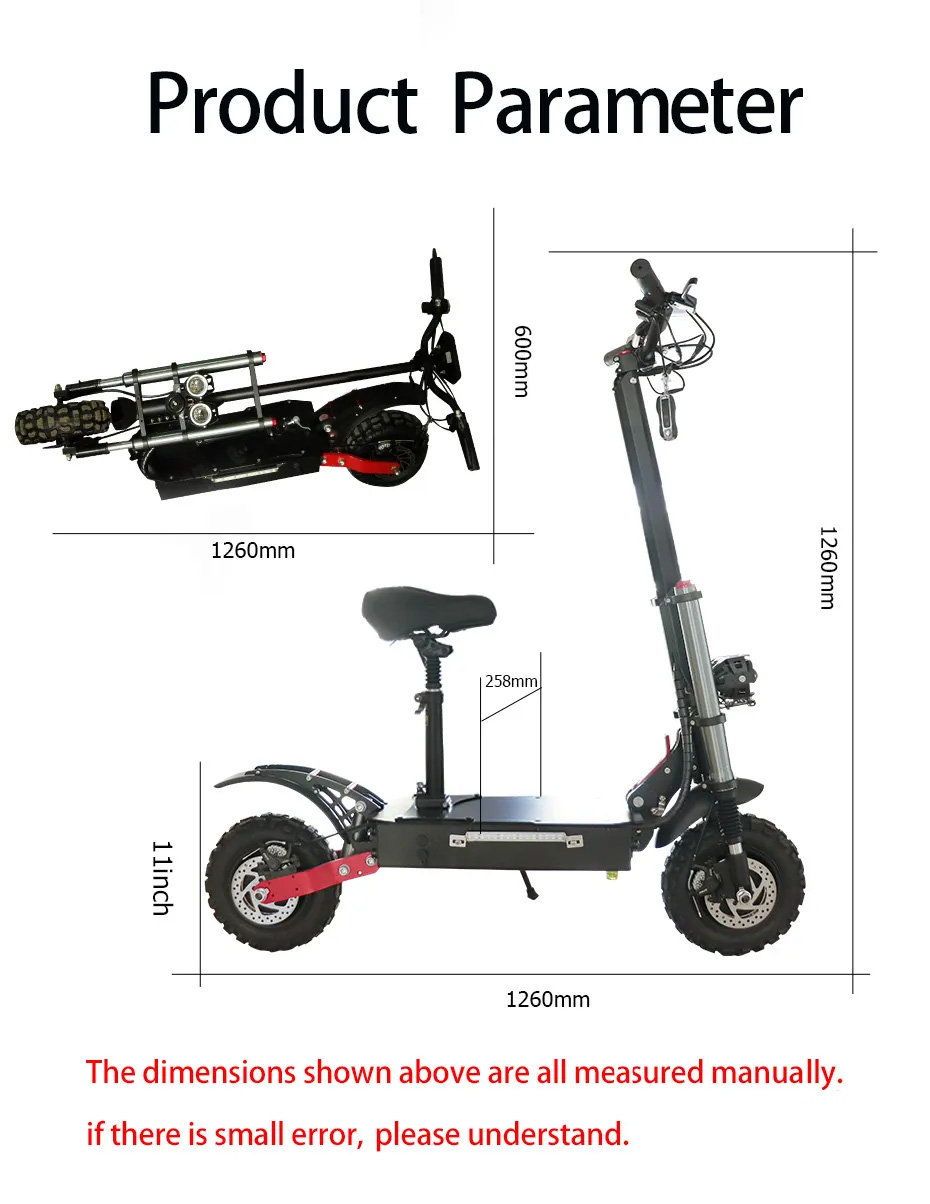 SPECIFICATIONS:
Motor:
X60 :5600W DUAL MOTOR
X700:2600W/3200W DUAL MOTOR
X500D:2000W/2400W DUAL MOTOR
X750:1300W SINGLE MOTOR
X500S:1000W/1200W SINGLE
X48:1200W SINGLE MOTOR
Battery:
X60:20/26ah Lithium Battery
X700:20ah Lithium Battery
X500D:18ah 20ah/20.8ah
X750:20ah
X500S:13ah
X48:10ah 26ah
Max Speed:
X60:80km/h 50MPH
X700: 70KM/H /45MPH
X500D:65KM/H/40MPH
X750:60KM/H/37.5HPH
X500S:55KM/H/35MPH
X48:60KM/H/35MPH
Max Distance
X60:70-100km
X700: 70km
X500D:60km
X750:60km
X500S:30km-40km
X48:30km-100km
Seat:
X60 with Seat(Removable & Adjustable)
X700: without Seat(if you need ,you can click this link https://pierrego.com/product/x700-x750-x48-for-seat-electric-scooter/
X500D:
with Seat(Removable & Adjustable)
X750:
without Seat(if you need ,you can click this link https://pierrego.com/product/x700-x750-x48-for-seat-electric-scooter/
X500S:
with Seat(Removable & Adjustable)
X48:
with Seat(Removable & Adjustable)
Wheel Size:
X60:11 inch Tire(Tubeless & Off-Road)
X700: 10inch Tire (Tubeless & Off-Road)
X500D:10inch Tire (Tubeless & Street )
X750:10inch Tire (Tubeless & Off-Road)
X500S:10inch Tire (with Inner Tube & Street )
X48:10inch Tire (with Inner Tube & Street )
Max Load:
X60:200kg /440LBS
X700: 160kg /330LBS
X500D:160kg /330LBS
X750:160kg /330LBS
X500S:160kg /330LBS
X48:160kg /330LBS
Climbing Angle:
X60: 50°climbing
X700: 45°climbing
X500D:40°climbing
X750:35°climbing
X500S:30°climbing
X48:30°climbing
Light:
X60 (Front Lamp, Slide Light, Brake Light,Turn Light)
X700: (Front Lamp, Slide Light, Brake Light,Turn Light)
X500D:(Front Lamp, Slide Light, Brake Light,Turn Light)
X750:(Front Lamp, Slide Light, Brake Light,NO Turn Light)
X500S:(Front Lamp, Slide Light, Brake Light,Turn Light)
X48:(Front Lamp, Slide Light, Brake Light,Turn Light)
Remote Key:
X60: YES
X700: Random sending
X500D:Random sending
X750:Random sending
X500S:Random sending
X48:Random sending
WHAT YOU GET:
1 * Electric Scooter for Adults
1 * USA Standard Charger
1 * User Manual
2 * Remote Controller
1 * Tools
1 * 6-Month Warranty